We're pleased to bring you another takeover from the Library plus details of a dissertation writing group for postgraduate taught students.
PGT News
Dissertation Writing Group – Tuesday 5 July
Join other postgraduates in the Library Seminar Room on Tuesday 5 July 9:30 - 12:30pm to focus on writing your dissertation – no registration necessary, and drinks and snacks will be provided!
---

"What a fantastic year it has been. As assessments wrap up and we near the end of term, all of us are undoubtedly breathing a sigh of relief and taking the time to unwind. With Term 3 coming to a close, here is the last Library takeover newsletter of the academic year.

In this issue, we spotlight our digital collections, which can be accessed from anywhere in the world - perfect for whatever you're doing. We also share some of our favourite texts and podcasts which help us unwind, and share some interesting library stats. Finally, we reveal how you can access our Library during the summer holidays. As always, let us know what you think about this newsletter and what you'd like to see next.

It's been an absolute pleasure launching this newsletter series, which came about as a direct result of student feedback, and we look forward to bringing you another round of newsletters next academic year.

Enjoy your summer!"

Harry Sun, student editor

Taking a Break from Your Work – A Leisure Library? by Liam Velani
We all tend to think about our Library as a place to study, find books for our course and access academic support. However, it's more than just that. It's a place to socialise, escape the academic routine and relax in the diverse world of literature. If you are going home for the break, why not check out the Library for some summer reads? Discover our top leisure reads.
Accessing our Library's Digital Collections from Home by Luke Holloway
The Library offers a huge range of books to enjoy by the pool… on the plane… or just at home for some well-deserved me-time. Why not take advantage of the variety of books, journals and online resources that we offer in digital formats and access what you need from anywhere in the world?

Whether you're doing some last-minute revision for an exam, working on a research project over the holidays, or thinking of starting next year's reading early, get ahead with our top tips for accessing the Library's online resources over the summer, especially if you're away from campus.
The Library in Numbers – Guess which one is true! by Liam Velani
The Library looks after many books and resources and welcomes a large number of students and staff each day. Here we have a couple of interesting statistics on the work our Library does, as well as the progress we have made in our Library Newsletter initiative this year. One statement is false. Can you guess which one?
E-book access has steadily increased from 3,492,627 in the 2019-2020 academic year, to 4,073,151 in the 2020-2021 academic year.

In the last twelve months to date, the Library received and processed 200 of your book suggestions.

Up until now, the Library Newsletter takeovers have been opened just over 32,000 times.

In the last twelve months to date, the Library-run blogs have posted 107 items, receiving 103,427 views in total.
Statement two is false! Instead of 200 book suggestions, we have actually received just over 630!
.
Summer Library Access by Rachel Parkinson
As the academic year comes to a close, don't forget that the Library remains open over summer. During the vacation, we want you to have access to everything you need, so we continue to be open for students working hard on dissertations, undertaking resits, or wanting to tackle next year's reading lists ahead of time! Certain spaces such as the Learning Grids and the Postgraduate Hub may be unavailable during the summer break, but if you prefer a change of scenery, the numerous outdoor green spaces we have on campus may be a good option.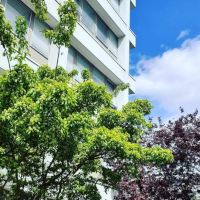 If you're a busy postgraduate or need a place to study over the break, check out SCONUL. SCONUL Access is one of the perks of being a Warwick student, and lets you visit a range of University libraries across the UK. As well as enjoying their study spaces, you can use the books and journals at any library that is part of the scheme.

Find out more and apply for access - happy reading

!

Let's Get Social
Never miss a PAT dog session at the Library again! Follow our Instagram @warwicklibrary to keep on top of our latest events & updates, and share with us your photos using #warwicklibrary (no, we will never be sick of Library sunsets).
Take a look at our

@warwicklibrary Twitter

for live event posting, behind the scenes, and some exclusive MRC content! Think you're a pub quiz pro? Test your knowledge with our photos of campus before

Instagram

or

Twitter

even existed...
Best wishes,
Student editor: Harry Sun
Student content creators: Liam Velani, Luke Holloway, Rachel Parkinson.
Library team: Andy Calvert, Samantha Platts, Jade Millar.


Student Communications Team