It's the start of a new week, and we have lots of opportunities for you. Keep active during your studies with a Warwick Sport membership, attend Black History Month events, join Diwali celebrations, get involved in a poetry workshop, and more.
UCU ballots outcome - Industrial action
Today (24 October) the University and College Union (UCU) announced that members from around 150 higher education institutions across the UK have voted for industrial action. The dates of the intended industrial action at Warwick are yet to be announced. We appreciate this may be concerning for you and are committed to keeping you informed. We have created a dedicated online space that outlines what we currently know and key questions you may have - it will be updated regularly.

Student Opportunity and Events
Warwick Sport membership
Keep active during your studies with an annual Warwick Sport membership from £98 for 12 months (equates to just £1.88 per week).

Join today

and make use of our state of the art facilities, while taking care of your mental wellbeing through physical movement.
Black History Month - SU events
Continuing with the

Blackness, Imagination, Liberation event series

in recognition of Black History Month, the SU is holding several events this week. On Wednesday 26 October, you can attend a talk by Khadijah Diskin, (PhD student at Manchester Metropolitan University) on

Rethinking the (Black) Student Subject in Neoliberal Times

. If you'd like to get creative, why not try the

Writing & Poetry Workshop and Open Mic Night with black [untitled]

on Thursday 27 October.

Find out more about these events, and see what's coming up next week

.
Diwali LED Tea Light Craft
Diwali is a Hindu cultural festival and means 'Festival of Light'. So come to the Piazza on Tuesday 25 October, 1-4pm, to decorate your own LED tea light to celebrate Diwali! Open to everyone with an interest in crafts, meeting new people, and finding out a bit more about Diwali.

Find out more here

.
The Gift Workshop with Dzifa Benson
Dzifa Benson, an internationally published poet and performer, provides a framework to inspire powerful lyric poetry. Come along and join in on Wednesday 26 October, 1.30-4pm, in Warwick Arts Centre. This is a perfect opportunity to take some time out for yourself, and to think about gift giving and receiving through writing.

Find out more here

.
Spooky season comes to Warwick Arts Centre
Join Warwick Arts Centre on

Halloween night

, Monday 31 October, for the first film in their vampire season,

Show Me Your Teeth

. Screening from 31 October-7 December, the season is an exploration of feminism, vampirism, and the representation of women in vampiric tales, featuring 7 films,

a panel discussion

, and an exclusive zine to every ticket holder. Under 26 season passes are available.

Support and safety
Wellbeing: sleep and relaxation
We understand that it can be hard to relax at times, especially when adjusting to a new routine. Difficulty sleeping is also common when under stress, and we don't want you to suffer in silence. The next Steps to Wellbeing session on sleep and relaxation is on Tuesday 25 October. In this session, we will explore strategies that we can use to help unwind and relax your body and mind to prepare for a good night's sleep. Please register by midnight tonight.
Meet the Residential Community team
Watch the video to learn a little more about the team that is dedicated to supporting students while living in on campus residences.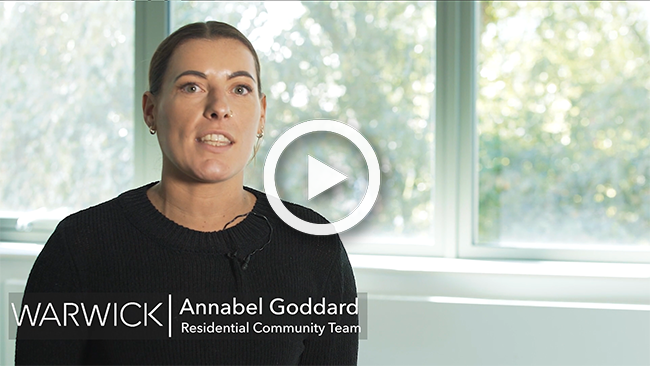 Let's keep the dialogue going
Rate Your Landlord
Rate Your Landlord aims to allow students to talk about their personal renting experiences and for others to learn from them, becoming savvy, safe and happy renters. Join the thousands of students who've had their say, and share your renting experiences.
Welcome Survey

- Thank you for sharing your feedback

Thank you to everyone who shared feedback in the recent Welcome Week survey, we've had the highest response ever which is great news. We're in the process of working through your feedback to understand what went well and where we can improve. Your feedback will inform next year's Welcome programme and other events throughout the year. We'll keep you updated on what changes we make based on your feedback. We're also pleased to announce that the prize draw winner has been notified, and will shortly receive their £150 Amazon voucher.
Best wishes,




and the Student Communications Team